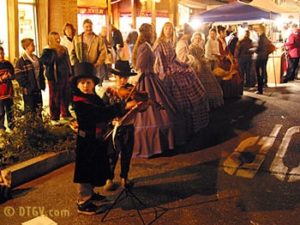 Grass Valley, California was possibly named by early settlers who cattle had wandered over to get to the grassy valley. It was during this time that miners began panning for gold on the Wolf Creek. They discovered gold bearing quartz around 1850 and the area became a boom town soon after because it was much easier to build in the grassy valley. Soon there were stores and the town was given the name of Centerville, most likely because it was a trading center for a lot of people.
Over the next 20 years, the town went from booming to bust. It gained the name of "Grass Valley" and families began to call it home as miners came and went. The area's population finally leveled out around the turn of the century. Churches were built along with schools, and the town became a family friendly, stable, mining town that many people loved.
The Main Street in town is considered to be, "The Heart of the City". It retains a lot of historic value. There is a lot of effort put into the town to ensure that people continue to come see what most of the town has left untouched. It will be a trip through time that you will not soon forget and you will be happy that you took the time to see what Grass Valley has to offer.